A good circular saw is a "must have" tool, it will be used for home improvement or renovations and it is the easiest way to cut a sheet of plywood down to sizes manageable on a table saw or bandsaw for your projects. There are many different styles and models on the market,select a style that feels comfortable, I find some very heavy, others have an awkward positioned handle. Purchasing a higher quality model is a good investment, this is a tool that you will use for a lifetime so you might as well get a good one. Don't go cheap on the blade it is not worth having tearout on an eighty dollar sheet of plywood an inch wide on each side of the cut just to save a few dollars.

Thanks Vintage Internet Patents

The first practical portable electric circular saw was invented by Edmond Michel and patented in 1924.

He founded the Michel Electric Handsaw Company to manufacture the saw in partnership with Joseph Sullivan.

The company name was later changed to Skilsaw Inc.

Portable circular saws in general are often referred to as Skilsaws or Skil saws.
Types of Saws
Worm Drive

This style offers better control and accuracy, used mostly by professionals,

Direct Drive

ThIs is the most common style, available in right and left hand models. Used by both contractors and the home handyman.

Cordless

With the better life of L-ion batteries this type of saw is becoming a popular choice. Extremely handy in locations where power is not available.
Shop Amazon.com
Track Saws

With a table saw's accuracy, a panel saw's capacity, and a circular saw's portability, the track saw makes precise, splinter-free cuts in almost any situation with minimal setup.

Simply lay the zero-clearance 59-inch track on your work-piece and plunge in with the 1,300 watt saw. The track's undermounted friction strips "grab" your stock - no clamping necessary - while the saw slides smoothly on four low-friction glide strips.

Available in both corded and cordless models.
40 Tooth

The more teeth on the blade the smoother the cut.

16 Tooth

This blade is used for fast cutting of construction grade material.

Vinyl & Panelling

Cutting thin material requires a fine tooth blade
Shop Amazon.com
Always treat these saws with respect, make sure that you have a firm hold on the saw and the material being cut. Position the saw on the edge of the material aligned with the cut mark, start the saw and push it straight into the material. Be aware of where the cord is, it is easy to saw through it. Make sure that you will not be sawing into your sawhorse or bench. Use a sawhorse with a wide top to hold material being cut. Use a cutting box or a cut-off square such as shown below to make accurate cross cuts.
Cut-off Square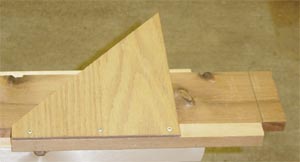 This triangle shaped guide allows it to be held to the board with your left hand with room for the saw motor to pass. Make the sides of the triangle about 9" long out of 1/4" thick plywood, the front guide ois a 1" X 3/4" strip about 14" long. Fasten the triangle to the strip with wood screws with the perpendicular edge of the triangle at right angles to the top of the strip. Your first cut should cut through the strip and the end of it is now used as a guide to position the jig.
Cutting Large sheets
Use a Sheet Rack to support the sheet, cut along a straight edge, either make one or purchase a factory made one. Cut on the back side of the sheet with a quality blade for a smoother edge.
All-In-One Low-Profile Contractor Clamps, New & Improved!
New and Improved! Now with lower profile and wider jaw for more stability! Wide lever handles and a click-lock sliding jaw make it simple to position and secure these clamps for use as a straight edge guide for circular saws and routers and as a fence for your table saw or drill press. A very low 9/16" profile body and flat top allow many applications without obstructing tools. Easy-to-read full color measuring scales enable outstanding accuracy anywhere along the clamp. Onboard T-Tracks fit select clamp accessories, sold separately. Rigid, lightweight construction makes these clamps a joy to operate. Each clamp is 2-17/32" wide. Contractor Saw Plate and Contractor Router Plate, Stop Block and Squaring Attachment sold separately.



Portable Panel Saw

Portable and Precise! The saws portable design offers you the same precision that you expect from a traditional panel saw, table saw, sliding miter saw and a radial arm saw. The saw rides on an aluminum rail which insures a straight cut every time. Additional features include a riving knife, splinter guard, and dust collection port. Standard equipment includes a 48T carbide tipped blade and (2) 25-Inch rails with connector.


Available from Amazon.com

Scheppach M90700 6 1/4-inch Blade Plunge Saw with Two 25" Rails and Connector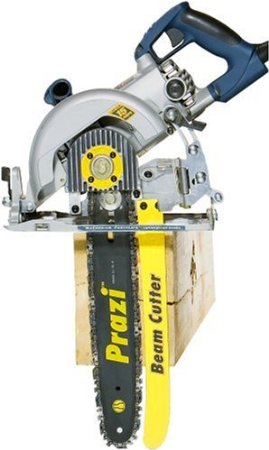 Prazi Beam Cutter works with Bosch and Skil 7 1/4 and 8 1/4 worm drive saws
Executes log cuts, compound angles, bandsaw cuts, and more
Footplate and built in site ensures glide management; vertical blade allows smooth, exact, square cuts
Will cut angles up to 45 degrees
More info from Amazon.com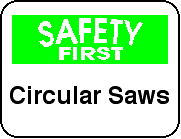 1. Wear eye protection when using the saw.

2. Have firm control of the saw and material being cut.

3. Make sure the blade is sharp and suitable for the job at hand.

4. Make sure blade guard is working, never tie it up out of the way.

5. Check used material for nails or other foreign objects before cutting.

6. Unplug saw before making adjustments or changing blade.

7. Do not over-reach, always have firm footing.

8. Allow saw to reach full RPM before starting cut.