---
Clamp-It Assembly Square

The Clamp-It« replaces custom clamping jigs, acts as a third hand, and eliminates the need for long bulky clamps. Simply put, the Clamp-It« is a square you can clamp. In fact, you can even assemble a cabinet one corner at a time! Works with any joinery technique, from nails to hand cut dovetails.

Sold individually so that you can use your own clamps or with available specially designed clamps.
Clamp-It!" Deluxe Kit

Tackle all of your clamping jobs with our original Clamp-It system and the NEW Mini Clamp-It! Deluxe Kit includes four full sets, including: Two Clamp-It Assembly Squares Four 5" Clamp-It Bar Clamps Two Mini Clamp-It Assembly Squares Four 4" Mini Bar Clamps Save 25%! ($79.88 Value)
Corner Clamping Kit

Provides another set of hands to hold your project together when used with the Clamp-It corner jig.

Features soft pads that will not marr your workpiece.
---
C-Clamps
One of the most common styles of clamps, available in a variety of sizes from very small 1" openings to huge openings of 12" or more.




3-Way Edging Clamp
Simultaneously support from above, below and head-on with this make this 3-Way Edging Clamp! The ideal clamp for trim repair, edge gluing, soldering and molding applications.
---
Wooden Handscrew Clamps
A classic design lets you offset and/or angle the jaws however you need to keep parts from shifting. Hardwood jaws are perfect for clamping delicate parts without marring. Eight, ten and twelve-inch clamps available, all featuring solid steel clamping elements and redesigned hardwood handles that accept new comfortable rubber grips (39105, sold separately). Quantities are limited! Offer valid while promotional quantities last! This offer is available online only and not available at stores!
---
Irwin« QuickGrip Bar Clamp/Spreader
The SL300 is a new and improved version of the original one-handed Quick-Grip clamp - one of Irwin's most popular clamps!
---
Pipe Clamps

These are very versatile, the length is determined by the length of the pipe used, additional length can be attained using pipe couplers. Black pipe is preferable to galvanized. Some cheaper brands tend to slip on pipe, if this happens drill a hole through the pipe behind the movable jaw and insert a nail.
Sure-Foot Plus™ 3/4'' Pipe Clamp
New and improved design features 2-1/4" high jaws — a half inch higher than standard pipe clamps! Ideal for use with our exclusive Pipe Clamp Bench Blocks (#35359), providing a full 1" engagement with the workpiece on the lower clamp. 3/4" pipe and accessories sold separately. Click "More Info" tabs for details.
---
Jorgensen 3700 Bar Clamps
Jorgensen 3700 Bar Clamps- Quick action grips bar anywhere. Bar is 1/4'' x 3/4'' . Jaw is 2-1/2'' deep. Bar Clamp Pads- For Jorgensen bar clamps 4 horseshoe and 4 round pads.
---
Band or Web Clamp

Nylon band wraps around object and is tightend with a rachet.
One-Hand Ratcheting Band Clamp
Adjust to size automatically with just the push of a button! Easy-to-use ratcheting handle allows for true one-hand operation and fine precise adjustments.
---
4-Way Equal Pressure Clamp
Adjustable length clamp provides pressure from all four sides — ideal for big projects such as gluing table tops and shelving. Applies pressure on workpiece face when edge-clamping to prevent bowing and buckling large panels.Clamp attaches to any length 2 x 2's (lumber and wood clamp pads not included). One Clamp per Package Includes one set of 2 parts. Two sets shown in photo. See more Info to make wood pieces.
---
Clampmate Frame Clamp
Tightens all four corners simultaneously for ease of use. Adjustable clamp is self-squaring as it pulls all four corners together. Reversible jaws work for either small or large frames. Clamps anywhere in a range from 5'' x 7'' to 26'' x 30'' . Quickly and easily folds for compact storage. Price for each.
---
Bessey Angle Clamp
Use the Bessey angle clamp for clamping square corners to a precise 90 degrees. The angle clamp is ideal for holding parts to be screwed or glued together. The clamp's maximum opening is 7/8'' on one side and 2-1/2'' on the other side for members of different thicknesses and 1-3/4'' for members of equal thicknesses.
---
Push-Down, Push-up, & Vertical Mount Clamps
These new and improved toggle clamps have a higher mounting base for larger clamping capabilities. PLUS, check out our new vertical mount clamps!
---
Vacuum Press Kit
Here s an affordable way to expand your projects into vacuum veneering and form bending! Perfect for laminating veneers onto solid wood and veneer bending using multiple layers of veneer laid over a mold. Square Vacuum Press Kit also available (see details below).
---
Workmate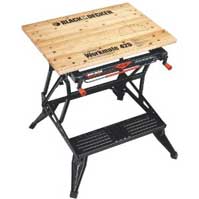 This versatile tool is a clamp, vise or work bench, especially handy in a small workshop, or for doing home repairs or renovations. Available in many different styles and configurations.
---
Glue
Titebond!" III Ultimate Wood Glue
Superior waterproof wood glue is ideal for exterior and interior woodworking! Available in five sizes. Stronger, safer, easier to clean up and less expensive than polyurethane glues. Allows eight minutes of open time and has an application temperature as low as 47║ F. One hour clamp time! Cleans up with water. Does not foam.

---

Gorilla Glue
The original premium quality polyurethane glue now available in a smaller size!

---

Cawls

Use a cawl to maintain a flat surface when edge gluing boards together.

Note: There would also be clamps across the boards which are not shown.

Making a Cawl

One of the easiest ways to make cawls is to use this jig and a warped board

or save the cut-offs when you true up a board with it.

---

Vises

Light Duty

Suitable for a hobbyist, usually will have a swivel base.

Workshop Vise

Some models have a swivel base, often a anvil is built-in.

Woodworker's Vise

These are what you would mount on a woodworking bench, note the pin that slides up to work with bench dogs to hold material.
6'' Clamp-On Bench Vise
Portable woodworking vise can be clamped or screwed onto a bench or other work surface. With 6" wide jaw and 4-1/2" jaw opening.
5'' Cross Slide Vise
For drilling operations that require the utmost in accuracy, this 5'' Cross Slide Vise will help you hit your mark with pinpoint accuracy. The vise features over 6'' of adjustability, both from side to side, and from front to back. Originally designed for machinists and metalworkers, the vise has been embraced by woodworkers for mortising, drilling pen blanks, and many other precision drilling operations.
All-In-One Low-Profile Contractor Clamps, New & Improved!
New and Improved! Now with lower profile and wider jaw for more stability! Wide lever handles and a click-lock sliding jaw make it simple to position and secure these clamps for use as a straight edge guide for circular saws and routers and as a fence for your table saw or drill press. A very low 9/16" profile body and flat top allow many applications without obstructing tools. Easy-to-read full color measuring scales enable outstanding accuracy anywhere along the clamp. Onboard T-Tracks fit select clamp accessories, sold separately. Rigid, lightweight construction makes these clamps a joy to operate. Each clamp is 2-17/32" wide. Contractor Saw Plate and Contractor Router Plate, Stop Block and Squaring Attachment sold separately.
Temporary Vise

Clamp a length of 2X2 to the bench top,

then clamp material to it, clamp both ends to hold it securily.