Wood turning can be a satisfying and addictive experience, it is in itself a complete unit capable of producing finished work. You can duplicate parts to repair chairs, dig into a burl to make a bowl or make your own custom candle sticks. Wood lathes come in many sizes, from small pen lathes to huge bowl turning machines. They are designated according to the maximum diameter of material that can be swung over the bed. A lathe capable of turning an 11-inch diameter disk is referred to as an 11-inch lathe. The other dimension to be concerned with is the center to center measurement, this determines the maximum length of material that can be mounted between the headstock and tailstock.
Parts of a Lathe
There are four basic parts to a wood lathe, the headstock, the tool rest, the tailstock and the bed.
Headstock - The drive end of the lathe, it will have a hollow, threaded stub, this is the spindle. The hollow is an industry standard Morse taper, these run from a #0, very small and increase in size up to a #4 or larger. The threads are also industry standards, refered by the diameter of the stub and the threads per inch on it. Smaller lathes may have a "3/4" - 16TPI" the next step up would be a "1" - 8 TPI". Material is held with a spur center that inserts into the taper or chuck or face plate that threads on to the stub.
Bed - The rails that support the headstock, tool holder and the tailstock. These may be flat cast iron or steel, some models use round steel tubes. The length of the bed determines how long of a peice of material that can be turned between the headstock and the tailstock.
Tool Rest - An adjustable bar on a base that attaches to the bed that supports the cutting tool.
Tailstock - This is an outboard rest with a Morse taper that supports material or holds a drill chuck to bore material. This taper may be identical to the headstock, but is often a size smaller
Types of Lathes
Pen Lathe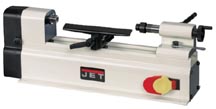 Small specialized lathe, usually limited to maximiun 2" swing, ideal for pen turning.
Penmaking Supplies from Woodcraft.com
Mini Lathe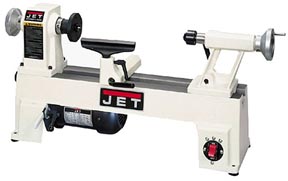 A good size for starting out, fits in limited space, extension to lengthen bed is available.
Floor Lathe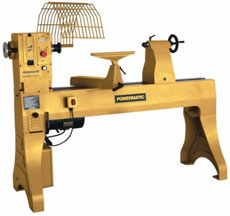 Heavy duty lathe, more rigid bed than lighter models, a machine for serious turners.
Shop and Compare
Common Tools

Gouge - A round nose hollow chisel, used for roughing cuts.

Skew Chisel - A double ground flat chisel with the end ground at an angle, used for smoothing and cutting shoulders.

Spear Chisel - Flat ground to a point.

Round Nose Chisel - Flat with point rounded.

Parting Chisel - Double ground chisel, used for cutting off.
Morse Tapers
Most lathes will be equipped with a Morse taper in the headstock spindle and the tailstock, these are standard sizes and designated by numbers, the smallest will be a # 0 MT, most hobby lathes will not use anything above a # 3 MT.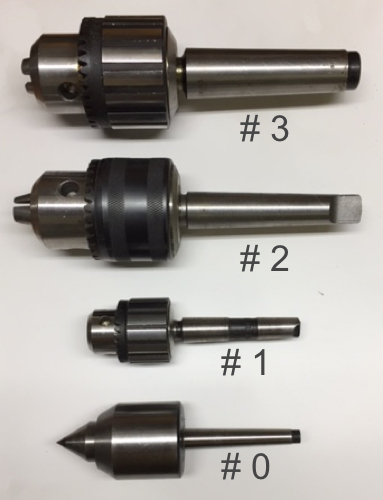 If you measure across the opening of the spindle you can figure out which size you need, a # 3 MT opening will be aproximately 15/16" in diameter, a # 2 MT aproximately 11/16" in diameter, a # 1MT aproximately 1/2" in diameter and a # 0 MT will be approximately 3/8" in diameter.
The shank of the # 3 MT illustrated has a threaded end for a draw bar, basically a long bolt, that holds it in the spindle. The shank of the # 2 MT has a tang on the end that locks into a slot in some spindles to prevent it from turning.
The drawbar style is used when sideways pressure is applied, otherwise it will work loose as it is run, this style is commonly used in the head stock.
When there is pressure against the end the tang style is used, commonly used in the tailstock of a lathe and drill presses. In this application the drawbar style may also be used without the drawbar installed.
Wood Lathe History
Thomas Blanchard patented the first copy lathe in 1820, really more of a shaper for producing irregular shaped wooden objects such as gunstocks and shoe lasts. Patent Print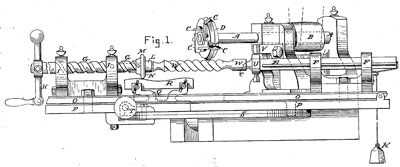 Another example of an early copy lathe from 1884, used to make spirals. The object is slowly rotated and advanced under the revolving cutter head. Patent Print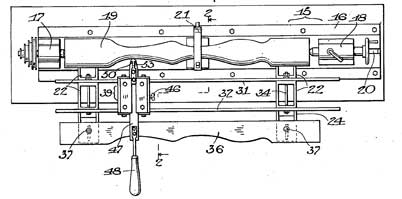 This example is a 1934 Delta "Copy Attachment" for their lathe, in this case the object rotates and a gouge is used to form the profile following the attached template.
Buying a Used Lathe
It is not always possible to get the specs of a used lathe from the seller and if it is an older model the manufacturer may no longer have a listing for that particular model. Three Seasons Woodturnings has a page, dated but still valuable to check on most older models.
Three Seasons Woodturnings Specs
Learning to Turn
I once asked an old turner what was the best thing for a beginner to make on his lathe, his reply was, "Chips, lots and lots of them."
His advice was to take a green tree branch a foot or so long, mount it between centers and with a roughing gouge true it up so you have a perfect cylinder. After that start practicing cuts, beads, coves, grooves, etc. with a spindle gouge, keep at it until the branch is whittled down to nothing, then get another branch and start over, practice identical combinations, try to make what you imagine in your mind.
HIs theory was that once you got your hand making what you pictured in your mind, only then should you begin to turn actual items.
Practice on green wood, it is much easier to work than seasoned wood and best of all it is free.
---
A Course in Wood Turning by Archie S. Milton and Otto K. Wohlers
Published in 1919, an oldie but comprehensive book on wood turning. The ultimate aim of this book is to give, through the exercises and problems, a thorough understanding of the principles of wood turning by gradually developing the confidence of the pupil in the complete control of his tools, at the same time suggesting harmonious lines in design which will lead to other ideas in designing problems.