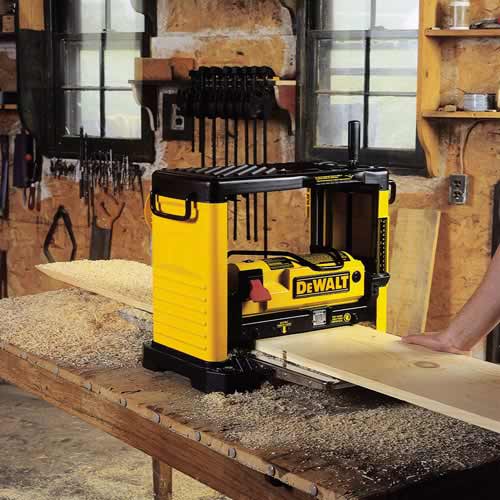 A thickness planer is a tool used for smoothing rough lumber or reducing the thickness of a board. With a planer every board on a project can be a perfect match.

A planer will not straighten a bowed board, it would have to be run through a jointer to get one side straight first.

The usual procedure is to joint the face and edge of a board, run it through a planer to get the correct thickness, then rip it to width on a table saw.

Run the board through the planer face down only as many times as it takes to make a smooth surface on the top, then alternate removing material from one side of the board then the other, this will produce a more stable product.
Types of planers
Most home workshops will have what is commonly refered to as a "lunchbox" machine, small, light duty units capable of surfacing a 12.5" or 13" wide board.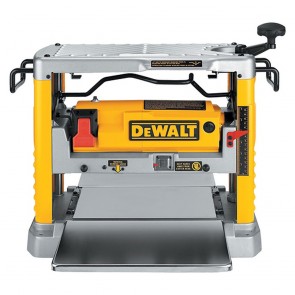 The unit shown features a cutter head with three disposable blades that are reversible when the first side become too dull to use. These units sell for less than $500.
Commercial shops will have larger units, heavily constructed with a capacity of 25" or more and capable of much heavier cuts than the smaller models.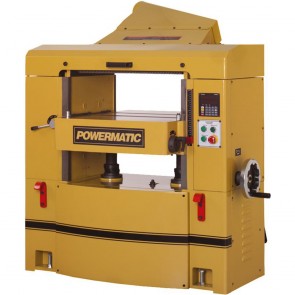 The unit illustrated has a helical cutter head with four sided carbide inserts rather than straight knives. these units sell for several thousand dollars depending on capacity and features.
Shop and Compare
Shop Amazon.com
Shop Woodcraft.com
Helical Cutter Heads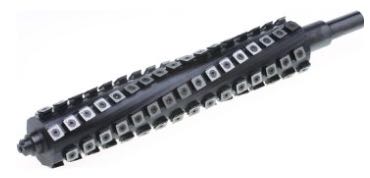 Photo from Amazon.com
This is a relatively new concept for thickness planers, they work really well, but they are not cheap to set up initially. Once you have them installed it is another story, if you hit a nail or other hard object in the wood it is simply a matter of replacing one small, inexpensive insert rather than an expensive blade. No special tools are required, no time wasting adjustments, just tighten a screw and get back to work. Each insert has four sides so can simply be rotated to a new cutting edge.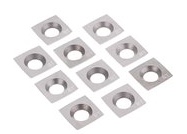 Noise is greatly reduced, by as much as 50%, instead of one big blade striking the wood 3 or 4 times per revolution you have small cutters, 1/2" - 3/4" in width that are staggered around the cylinder so that only one or two are striking the wood at a time.
You will have less tear-out working with knots, burls and figured wood compared to a traditional straight blade.
The one disadvantage to a helical head is that it takes more power to run them, many of the small lunchbox units just don't have what it takes.
To Operate the Planer
1. Make sure the planer is fastened securely in place.
2. Lower the cutting head until it just touches the surface of the board.
3. Remove the board and lower the head another 1/16".
4. Feed the board into the machine, it will automatically travel through.
5. Follow with gradually deeper passes, about 1/16" until desired thickness is obtained.